Tattoo Hygiene
Hygiene is the top priority For all tattoos. EDO Tattoo™ therefore works self-obligingly according to strict guidelines and rules. Not only the general rules apply to us in the tattoo hygiene, but we also pay attention to special cleanliness and aftercare.
Prevention, care and aftercare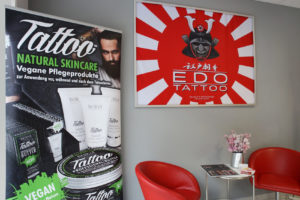 All employees and tattooists in the team EDO Tattoo™ are well informed and experienced in dealing with the hygiene rules and the self-imposed rules of health care. We also pay attention to the highest quality in the aftercare of your tattoo. For this EDO Tattoo™ uses only high quality and natural products from our sponsoring partner BELIVA Cosmetics *. The whole assortment is at your disposal in the studio.
In order to guarantee the exact adherence to hygienic guidelines for every customer, I am in direct contact with the health department of the Rhein district of Neuss long before the opening of the studio in 2012. There the studio management was comprehensively informed about all necessary hygienic measures. Accordingly, EDO Tattoo™ works strictly according to the currently valid Hygiene Regulation** of the German federal state of North Rhine-Westphalia and fulfills its requirements. In addition, the health department has helped to determine our actions when choosing a shop.
The health department of the Rhein district of Neuss attests to the EDO Tattoo Studio not only full compliance with the hygienic requirements, but also that the business operation makes a very clean and orderly impression.
Our studio is cleaned every day using special means to ensure complete sterility. We clean work surfaces and chairs after each customer session and additionally ensure the guarantee of hygienic cleanliness during longer tattooing work.
Do you have questions about hygiene? Then please contact us. We are always happy to provide information!
Get yourself a picture on site of our Studio in Neuss.
**Hygiene Regulation of the German federal state of North Rhine-Westphalia
*BELIVA Cosmetics GmbH, Mönchengladbach (Germany)